Beno, a Graptemys pseudogeographica, Turns Over
Timea Szabo, a student of Dr. Gabor Domokos, lives with a famous
Graptemys pseudogeographica
named Beno.
Dr. Domokos figured out a shape called a Gomboc. It is like the shape of an Indian starred tortoise shell and some beetle shells. Animals with a shell like a Gomboc can get right side up easily if they have to.
Beno is not an
Indian starred tortoise
. His shell is not as high. It's harder for him to turn over.
Beno agreed to turn over while Timea took pictures so you could see how a turtle looks when it turns over. Here are the pictures. I'm very happy that I can use these pictures on my Web site because Beno is a very famous turtle. People wrote about him in Nature and Science magazines, Speigel, The New Scientist, and other places.
Here is how Beno turns over.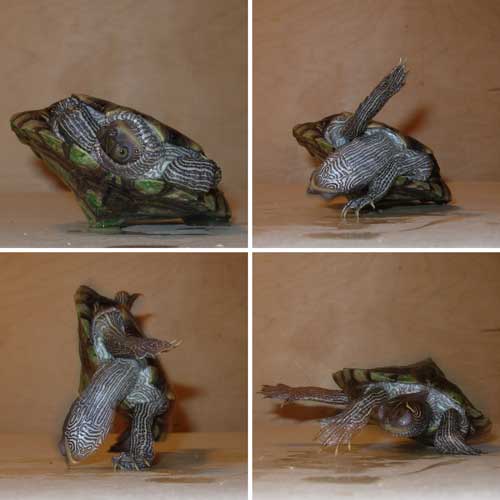 You can see how a Gomboc works if you go to the
Gomboc Web site
.
Keep it slow and steady.