Announcing the Winner of the
Name This Tortoise Contest!
When Lyn and her family brought me a new tortoise friend, I was over the moon with joy. I was living with only a human for company.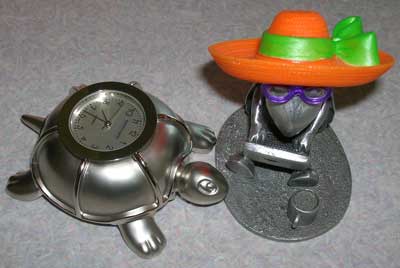 But we didn't know the tortoise's name. We decided to have a contest to name this tortoise. Here I am with him. (He's the one with the clock on his back.)
Lots of SBIers joined in the fun. Here are the names they suggested and their Web sites.
Choosing a winner in the contest was hard, hard, hard -- harder even than a tortoise's shell! But we did it!
Now I am going to tell you who the winner is.
THE WINNER IS
Mohd Yamin whose Web site is called
pahang-delights.com
.
Ticks-Tort sits on the desk with me and reminds me to use my time wisely.
Keep it slow and steady.