CAN I STOP MY SULCATA TORTOISE FROM DIGGING?
by MONICA Maraspini
(LODI, CA)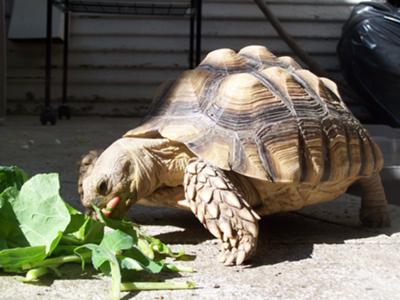 THIS IS "CHARLIE" my sulcata tortoise
I HAVE A SULCATA THAT I HAVE HAD FOR A COUPLE OF YEARS NOW AND WAS TOLD THAT HE IS ABOUT 6 YEARS OLD. HE JUST STARTED DIGGING AND MAKING A TUNNEL A FEW WEEKS AGO AND IS NOW ABOUT 5 FT LONG AND I AM WORRIED THAT HE MAY DIG OUT UNDER OUR FENCE AND "GOD KNOWS WHERE" INTO THE NEIGHBORHOOD. WHAT CAN I DO TO STOP THIS OR CAN YOU STOP THIS BEHAVIOR. I AM WORRIED THAT I WILL LOSE HIM AS HIS TUNNEL IS HEADING IN THE DIRECTION "OUT" OF OUR YARD SOON. ANY HELP WOULD MUCH BE APPRECIATED.


SINCERELY,
MONICA MARASPINI