Sun and i think sliders! thick tail, right food?
by Christine
(N. Attleboro)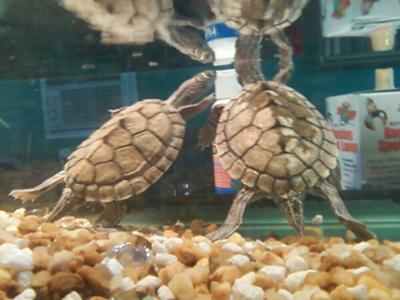 I think these are sliders?
I have a huge tank (Not sure what size (Photo added)), Two Sun turtles and two Red Ear Sliders I think. They have a turtle habitat thing I bought with 2 filters, a filter and two heaters. The water is still not over 80 during the day and not over 68 at night is that ok? I also have a uvb lamp on in the day with a heating lamp and at night a red light for heat on. I add stress coat once a month to the water, feed them all ReptoMin from Tetrafauna, and put vita shell on their shells once a week. Id liek to know if im doing everything right?, feeding them what they need?, Warm enough water ex? ....I have not noticed the sliders tails thick before but I took a photo and was wondering also if it looked ok.


Thanks SO much!
*Chrissy