It's All About Your Tortoise Pride
Put Your Tortoise On The Web
Psst! Tortoises,

You know that I have to write like this, pretending that we belong to the humans because the humans have the computers with Internet connections. You and I know it's really all about YOU, the lovely chelonian!
OK, humans...
This is your place to flaunt your tortoise or turtle with pride.
Go through your photos and videos and send your best. Tell us why your tortoise is the best tortoise ever. Tell us the funniest or smartest thing your tortoise ever did. Write a tribute to the best tortoise you've ever known.
Your chelonian will have his or her very own page on the Internet!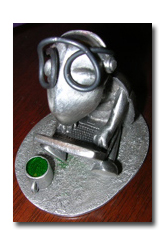 This is the place on the Web to celebrate the tortoise. Of course turtles and terrapins are welcome here, too, as always.
I have to put on my editor glasses and check all the submissions before I can make them live on the Internet. Tortoises have great dignity and integrity, but some humans spam Web sites. No spam allowed here, only real doting on real tortoises and turtles. I will let you know when your tortoise's page is live. Then you can send all your friends and rivals to look at it. They can even leave comments -- only polite ones get through my editing.
Your Tortoise Brag Page
So what will you share about your tortoise or turtle?


Is your tortoise the best, the biggest, the funniest, the most beeUtiuful -- oops, that would be ME! -- the most loved?


Be sure to send only your best stories, photos, or videos because the world is watching -- and commenting.


What Other Visitors Have Said
Click below to see contributions from other visitors to this page...



Keep it slow and steady.